Pattern Round Up | 10 Free Halloween Crochet Patterns
With one day left until the Halloween Party day of the year (aka, the Saturday before Halloween), I'm guessing a lot of you are not in full-blown Create Mode. I, for one, don't have a whole lot of time on my hands, as there are still decorations to put up, bathrooms to clean, and a boys' room that was hit by a Nerf dart hurricane during the night.
So instead of finishing my amazing cardigan, or working on some adorable critter, I will be cleaning…and probably cooking…
That does not, however, mean you should be! So get out there and create something awesome! And think of me scrubbing my floors while you do…knowing someone is out there crocheting will make me feel better. 
10 Free Halloween Crochet Patterns | Round Up!
I've done a Halloween Round Up of my favorite Halloween patterns I have found this year from various designers. There have been some amazing things created this season! Here are 10 of them!
This Skullduggery Doily from Crochet Kingdom is a great way to decorate a table!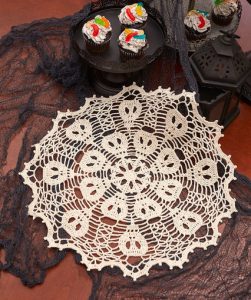 Erishkigal Skully Snowflake from Warmer Than A Witch's Knits is amazing! I love the detail! Oh dear, and the web site name is just too much. 🙂
Skull Earrings by Divine Debris! I might even have time to make a pair of these. 🙂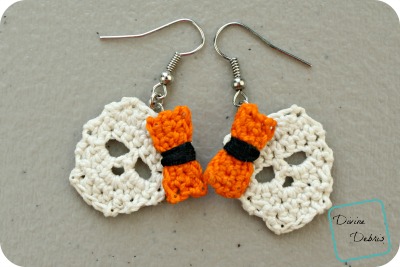 Eye Ice Cream Cone from Leithygurumi! This one won me over in a big way!
This is Red Heart pattern for an awesome Halloween Top Hat! Last-minute costume anyone?
A classic, the Lost Souls Shawl by Maryetta Roy. It is amazing in every color and works up so nicely!
I threw in a few of my own here at the end. 🙂
The 10-Minute Eyeball Rose is all over my house, in various forms. 🙂
My favorite accessory, the Spider Web Newsboy Cap.
The adorable Zombie Mermaid, Necrocia. Oo-la-la!
A fun and fast Rick Rack Pumpkin. Looks great in lime green and purple too!
And of course, what Halloween party would be complete without dressing up your wine bottles?
The Dracula Wine Bottle Cape!
Okay, so that was 11. But I had to include that last one because it's just too fun! And it takes about 10 minutes to make.
Yarn on,
Kati
(Visited 9,050 times, 24 visits today)
Kati is the designer behind Hooked by Kati. With thousands of patterns sold around the world, Kati prides herself in creating innovative, easy-to-follow amigurumi patterns. She has designed for several publications, including Crochet!, Crochet World, Simply Crochet, and I Like Crochet. Kati finds her inspiration in science fiction, video games, and numerous visits to the zoo — all passions she shares with her husband and two boys.