Is anyone else drowning in yarn? I'm not talking about the happy splish-splashing around it a vast collection that I often feel about my fiber collection.
I'm talking about the feeling that there are real Frankenskeins in there that are plotting revenge having never been made into a pair of gloves or a cute hat.
Or that sensation of pulling out storage containers not knowing what could be in them, and "Oh! Look! It's yarn!" — yarn that has been in there so long I forgot about it all together.
January is always my big organization month. It might be because I fall victim to the "new year, new you" mantra every time. It helps that my birthday coincides with this organization-obsessed time of the year.

No matter what the reason, it's time to purge the stash. And as much as I would love to think I have the willpower to actually just donate a trash bag full of yarn to my nearest charity, it usually ends with me asking "What can I make with all of this instead?"

Cue the scrap buster projects!

These are my favorite uses for scrap yarn. Some of them work well with small bits and some with the longer ones. But they are all really great ways to get rid of some of that hoarder's guilt that comes with cleaning out your stash.

And who knows, maybe you can keep the angry yarn at bay by letting it finally become something pretty!
Stash Buster Pattern Round Up
Apache Tears Scrap-ghan by Crochet Instinct
Scrappy Owl Bag by Hooked by Kati (for bulky yarn)
You can use the Magic Knot to create a ball of "Frankenyarn," like the Projectarian.
Scrap Buster Fingerless Gloves by Goddess Crochet
Easy Peasy Poncho for Children by Goddess Crochet
Happy Scrappy Afghan from Apple Blossom Dreams
Hedgehog Punk by Crocheting Andreas

Any of Heidi Bears' African Flower amigurumi are GREAT ways to use up those brightly colored scraps you have lying around.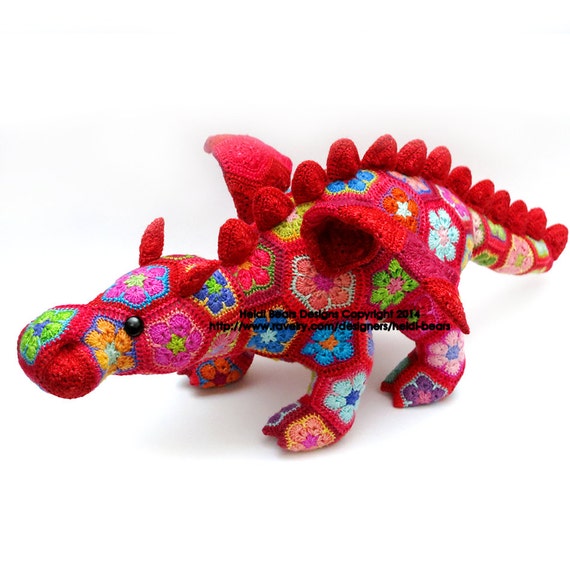 Scrap Granny Hooded Jacket by Maggie's Crochet

Lazy Waves Scrap Blanket by Look At What I Made
What is your favorite stash busting project?
Add your favorite to the Comments section! Let's keep this list growing!
Yarn on,
Kati
(Visited 1,386 times, 1 visits today)
Kati is the designer behind Hooked by Kati. With thousands of patterns sold around the world, Kati prides herself in creating innovative, easy-to-follow amigurumi patterns. She has designed for several publications, including Crochet!, Crochet World, Simply Crochet, and I Like Crochet. Kati finds her inspiration in science fiction, video games, and numerous visits to the zoo — all passions she shares with her husband and two boys.